Customer service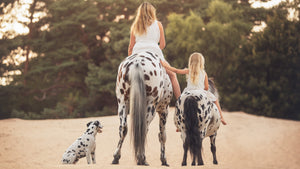 Customer service
Our team is here to help you with your training and questions. Young or old, small horses or large horses, everyone is welcome to enjoy, love and train with your horse. What is your question and how can we help you with that?
Please contact us
Questions about the products
Share blog posts, products or promotions with your customers. Use this text to describe products, share availability and style details, or as a space to display recent reviews or FAQs.
FAQ
Returns & Service
We understand that it is not easy to get everything the right size and fit to receive. That is why we want to help you return with friendly conditions.
Returns
Bringing Two Hearts Together
Human & Horse Story
Human & Horse works for a better future, every day, with services that help people and help horses to feel good, look good and get more out of life. The training method and products of Human & Horse aim to inspire people to live a sustainable life with your horse by taking small, daily actions that together make a big difference to the world. For the heart of the human, for the heart of the horse, to connect two hearts in the end.